Indy News Update #3 for September 11, 2012
Submit your Indy news and results to: Jason@wrestleview.com
Northeast Wrestling sent this in.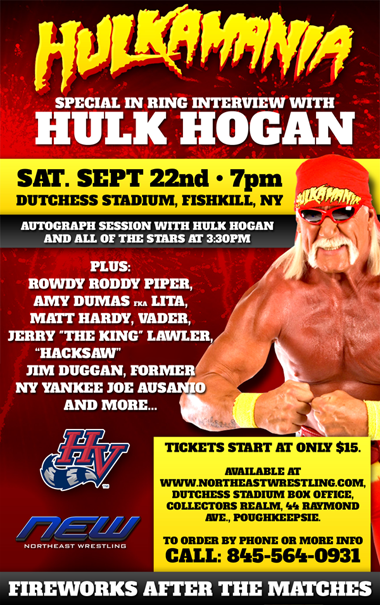 ATURDAY, SEPTEMBER 22
WRESTLING UNDER THE STARS
ORDER TICKETS – CLICK HERE
PRE-ORDER MEET & GREET ITEMS – CLICK HERE
CRM Contracting Co.
(Visit their website & Like them on Facebook)
and
Northeast Wrestling and the Hudson Valley Renegades
Present
Wrestling Under the Stars
Saturday, September 22 – 7 p.m.
Dutchess Stadium, Fishkill, NY
ALREADY SIGNED
A SPECIAL MEET & GREET WITH HULK HOGAN
"ROWDY" RODDY PIPER
Special thanks to our sponsor Collectors Realm for assisting in making "Rowdy" Roddy Piper's appearance possible.
DUSTIN RUNNELS FKA GOLDUST
VELVET SKY & ANGELINA LOVE VS. ROSITA AND MADISON RAYNE W/ AMY DUMAS FKA LITA AS THE REFEREE
SAMI CALLIHAN
VADER
MATT HARDY W/ REBY SKY
"HACKSAW" JIM DUGGAN
Northeast Wrestling Title Match
NEW Champion Brian Anthony vs. Matt Taven w/ Kasey Ray
Falls count anywhere in Dutchess Stadium
Special Attraction
Jerry "The King" Lawler & Former NY Yankee Joe Ausanio
vs.
Romeo Roselli & Luke Robinson
(Managed by "The Mouth of the South" Jimmy Hart)
Also Appearing
Bill Carr
Card subject to change. No refunds or exchanges.
---
Michal Petrgál sent this in.
Interview with Davina Rose – about WWE or TNA, current Divas Division, debut for SHIMMER etc. The newest member of the female independent wrestling organization SHIMMER is Davina Rose. She spoke with Robert "Krupy" Krupár from www.artofwrestling.cz about various topics. The Krupy : How do you feel about making your debut for SHIMMER ? Davina Rose : My SHIMMER debut was definitely the highlight of my career so far. I couldn't have asked for more, especially wrestling against Mercedes Martinez in my first match there. I learned so much in such a short amount of time there. I love everything about the promotion and couldn't have been happier being a part of the Serena Deeb/Portia Perez rivalry. I owe a big thanks to Serena for making that happen for me. The Krupy : Would you rather go to WWE, or TNA and why ? Davina Rose : It's hard to say because I love different things about each of those companies and would love to work for either one. WWE has been my dream since I was a kid but I'm really happy with the way TNA treats their women's division. That's a tough question! =) The Krupy : What is your opinion on the current decline of WWE Divas Division ? It´s just painful to watch. Davina Rose : It's sad to me because it used to be so good, and I believe it still can be very good because there are a lot of talented women in the locker room but they just don't give them the opportunity. I'm hoping it will pick up soon. Don't give up on them! Davina discussed a lot more topics with Krupy. If you would like to know how she got to wrestling business, about her favorite matches so far, wrestling idol in her childhood or how is day off like for her, here is the full link to the interview on Art of Wrestling CZ (http://www.artofwrestling.cz/exclusive-interview-with-davina-rose/) You can find more exclusive interviews on this page: http://www.artofwrestling.cz/category/english/ Thank you for publishing this on your webiste. Best regards, Michal Petrgál Art of Wrestling www.artofwrestling.cz tel 777 801 681 twitter.com/michalpetrgal